Click Source for full article and credit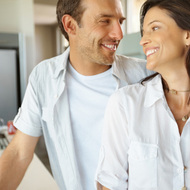 How do you stay married? One way is to be sensitive to each other's needs and to compromise every now and then. That means taking turns getting one's way, or finding a third way that suits you both.
1. Trust. Our marriage space is sacred and private.
2. Restraint. We resist temptation and remain true to each other.
3. Intimacy. We are open with each other.
4. Priorities. We both put our marriage first.
5. Difference. We respect each other's differences, and know that difference lends interest.
6. Sameness. We share basic values, some interests, and tastes.
7. Communication. We speak up and communicate our needs, likes, dislikes, agreements, and disagreements.
8. Fairness. We play fair.
9. Respect. We demonstrate it.
10. Emotion. We get mad at each other sometimes; we are human.
11. Reconnection. We get un-mad. If it takes a day or so, we live with it and work on letting the anger go.